Well, here we go once again. I got a call a few months ago from an agency out here. They are real big time and so I figure that anyone who is calling them for wedding music is loaded. So, I highballed my price, you can always negotiate down. So the agent sent them to our page on his web site so they could look at us and listen to the sound files, and the client still went ahead and hired us! Amazing!
The gig was at this real nice piece of property in the Carneros region of the Napa valley. It's called the Di Rosa Preserve. This area is right at the tip of the San Francisco bay, real windy! This link will give you an idea of the place: http://www.circlepix.com/tour.htm?id=362255&mls_tour=1
This rich geezer bought the place years ago and it has one of the largest private collections of art in California. It really is something to see. Here's a picture of the lake on the property. Not only do California cows talk, they also walk on water!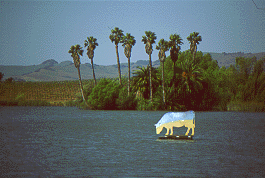 So, there we are playing the usual wedding stuff, Pachebel's Canon in D, Jesu, Joy of Mans Desiring and a couple of sappy love songs they requested.
Have you ever tried to play flute in a gale storm? Let me tell you it ain't easy! The wind comes up and your air stream takes a 90 degree turn and takes the note along with it! This is not what you would call a relaxing environment.
The music they wanted for the processional was "The Wedding" from The Legends of the Fall. I had that sheet music nailed down at every corner,….except one. Well, guess what, right when we are getting towards the end, yup, you got it, a giant gust of wind comes across the music stand reminiscent of Hurricane Katrina and whoosh, up goes the corner that wasn't glued down!!! I hate when that happens! Well, I'm a pretty good jazz player and improviser, but jamming on a wedding processional piece is not something I'm accustomed to. But, improvise I did.
But, you know what? No one even suspected I made up the last eight bars! They loved it. They, the bride and groom, approached me afterward and said they thought it was just beautiful and they were very pleased. Unbelievable! I just thanked them, I wasn't about to tell them.

There you have it, another reason why I love doing what I do. It's hardly ever boring. Well, sometimes it is, …never mind, that's another blog entry.
Later everyone!