Have you all heard about Chris Potter? If you haven't, you're missing quite possibly the best tenor player walking the planet these days. I first saw him many years ago while I was watching a film on television on the South Carolina Jazz Festival. Chris was with the Red Rodney Band. Red was the trumpet player (the "albino" member of the band) with Charlie Parker for a while. Anyway, I'm watching this and all of a sudden Chris comes walking up and proceeds to blow everyone off the stage! He was quite young but he already had a very firm grasp on how to speak jazz tenor. At the end of the concert he and Eddie Daniels played together on a B flat blues, I think it was "Tenor Madness." Man, the sparks were flying between these two!
Last year I went to see Chris perform at Yoshi's in Jack London Square in Oakland, Ca. I was absolutely riveted! He does things on the tenor that don't seem possible. His technique is truly awesome and he uses it in a very unique style. Definitely go see him if you ever get the chance.
I have followed Chris' career ever since and he is one of my all time favorite tenor players. His latest album "Follow the Red Line, Live from the Village Vanguard" is one of the finest recordings I have ever heard. He is with the same band as the "Underground" album, Craig Taborn on Fender Rhodes, Adam Rogers on Guitar and Nate Smith on Drums. These guys are all on a different page and together they make some of the most exciting and freshest music these old ears have heard in a long time. After the show I walked up to him and shook his hand and introduced myself and he was a genuinely nice guy.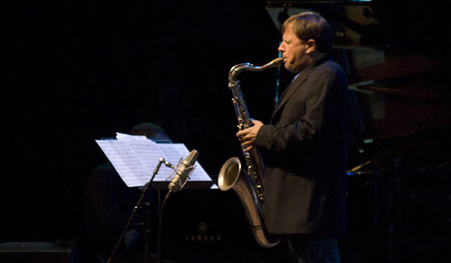 Here's a clip of the Chris Potter Quartet, featuring the band from the "Underground" album.